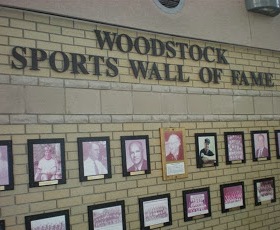 The Woodstock Museum is currently displaying an exhibit featuring the 20 year history of the Woodstock Sports Wall of Fame.
WOODSTOCK - The Woodstock Museum held a grand opening for the new exhibit celebrating a major milestone for the Woodstock Sports Wall of Fame.
The Wall of Fame is celebrating 20 years, and the exhibit looks back on our storied history.
Chair of the Woodstock Recreation Advisory Committee Mark Schadenberg says they cover a wide range of sports.
"Woodstock's got a great cross section of sports accomplishments, and we say the same thing for the Sports Wall of Fame and you can see at the Museum now for this display that continues until September 24th and I'm not just thinking hockey and baseball or fastball, but lawn bowling and figure skating and so many other sports."
The Sports Wall of Fame will also have some special new components unveiled during the induction later this year.
"This year's Sports Wall of Fame induction ceremony is October 29th - the last Saturday in October - at the Community Complex at Goff Hall so that's when the unveiling will take place of the new touch screen and new look for the Wall of Fame. There will be some additional photos as part of the display, but basically the touch screen in going to be the display now."