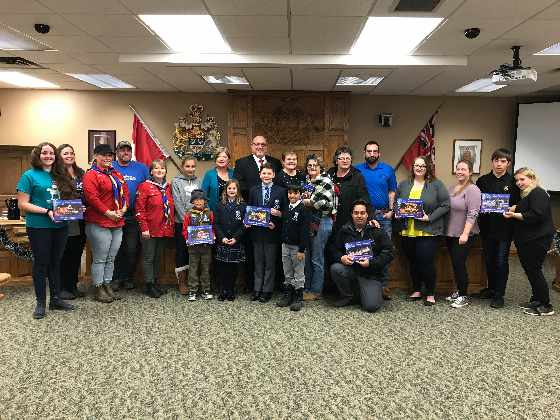 2019 Santa Claus Parade Winners
This year's Santa Claus Parade in Woodstock saw a total of eight winners across four categories. The recipients were at last night's Woodstock City council meeting to receive their awards.
WOODSTOCK - Winners from the 2019 Woodstock Santa Claus Parade were on hand to receive their award at Woodstock City council.
Last night's meeting saw recipients in four different categories.
Inventory Control Manager for Sysco Foods Cathy Crossman says they won first place in the Corporate Sponsor category.
"It's great to be on the float and see the reaction from the community as well. How many people come out no matter how cold it is or what the weather is like, everybody's there. So rain, shine, sleet or snow Santa has to get there too and he's got his helpers seeing the way."
Crossman adds it was great to participate in the event.
Float Coordinator Virginia Armstrong says the parade was truly successful this year.
"We had so many great entries, so many wonderful participants and everybody made it through the parade safe and sound and that's our top priority is safety."
Armstrong adds they had 83 entries this year. This year's parade saw a total of eight winners across four categories.
Other winners this year included the 13th Woodstock Scouts and Touchstone Farms.
Armstrong says they're looking to build on a successful parade going into next year after their final meeting, looking for more bands to attend.
"This year we did have a couple bands that were unable to make it at the last minute, so that was a little bit disappointing. But moving forward, we are really hoping to have the Sister City Band from Sylvania, Ohio and that's one of our biggest pushes for next year so we're hoping that's going to happen."
The following is a full list of winners from the 2019 Santa Claus Parade:
Corporate Sponsor
1st Place - Sysco Foods
Cathy Crossman, Josh Geisel, Nicole Coticone
Runner Up - Trigon Construction Management
Ethan Wells

Community Service
1st Place 13th Woodstock Scouts
Doreen Newman, Karolyn Gilbert, Dominik Gilbert
Runner Up - Woodstock Agricultural Society
Helen Bee, Lianne Johnson

Commercial
1st Place - Touchstone Farms
Jill and Rob Parkhill and their daughter Brenna
Runner Up - YMCA Woodstock
Amy Luciani and co-workers

School Spirit
1st Place - College Avenue Secondary School
Tyler Robinson, Reanne Thede
Runner Up - The Oxford School
Ben Shapton, Megan Atkinson, Keltej Rai