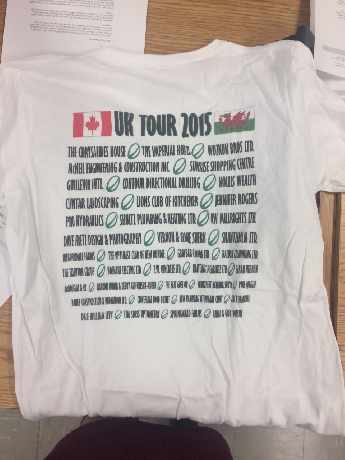 The Waterloo-Oxford Girls Rugby Team 2015 tour t-shirt.
The Waterloo-Oxford Girls Rugby team is looking for businesses who may want to sponsor their big trip to Ireland this March.
The Waterloo-Oxford Girls Rugby Team will be travelling to Ireland this Spring Break.
While in the Emerald Isle the team will get to play against Irish teams and while sightseeing in Cork and Dublin.
Lindsey Robinson is a grade 10 student from Plattsville and is also a member of the team. She tells Heart FM what she hopes to take away from the trip.
"I'm looking to experience some new cultures and gain some life experience in a new country and obviously bonding with my team and just exploring a new place."
The team is currently looking for sponsors for the trip. Robinson tells Heart FM each sponsor will be represented on the team's tour t-shirts.
"There's a small donation of $100 to get your small name on the back and them a medium of $200 and a large is $300 or more."
Anyone interested in sponsoring the team can e-mail Lindsey Robinson at lindsey_robinson@hotmail.ca.