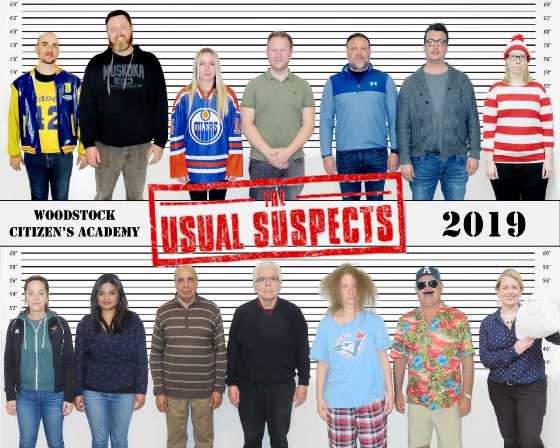 Woodstock Police are looking for the Usual Suspects to sign up this year for the Citizens Police Academy.
WOODSTOCK - Woodstock Police are looking for the Usual Suspects to sign up this year for the Citizens Police Academy.
Since 2001, 140 citizens have participated in the academy. Seven previous candidates of the Academy are currently working at Woodstock Police as Constables. Numerous other candidates have also joined the Woodstock Police Auxiliary unit. Community Service Officer, Shaylyn Jackson says they will learn a variety of things in training.
"Officers that specialize here that have specific training, will get the chance to teach them firearms, use of force, our Auxiliary Containment."
Jackson also said it gives the community good insight to the field.
"We offer the Citizens Police Academy to community members within the city of Woodstock to learn more on what it is that our service has to offer and all of the different departments we have here."
Participants will get a look at these sections below:
- Uniform Patrol: Participants are shown how our front line staff respond to daily incidents. They are shown the tools of the trade and how officers deal with different calls for service.
- Criminal Investigation Bureau and Intelligence: Detectives from our Criminal Investigations Bureau show participants how they
investigate major cases and more complex investigations.
- Community Relations/VASOC: Community Relations/School Resource Officers show how they interact with children through the school setting and interact with organizations like Crime Stoppers, MADD and Racing Against Drugs. Victim Services explains how they work closely with the police service and how their volunteers offer supports to victims of crime and trauma.
- Traffic Collision Reconstruction: Traffic Officers explain how they reconstruct major collision scenes, use of the RADAR
and the Highway Traffic Act.
- Forensic Identification: Forensic Officers explain how crime scenes are examined and evidence is processed.
- Containment: Containment Officers show off the tools of their trade and members of our Auxiliary Unit
talk about possible volunteer positions available within our organization.
- Firearms and Use of Force: Participants get firsthand experience using Officers Use of Force options including
Firearm, Taser, Pepper spray, baton and handcuffs.
- Ride Along: Participants will also have the opportunity to accompany an Officer on a Ride Along to
get a front row seat at the front lines of crime fighting in Woodstock.
If you're interested, visit www.woodstockpolice.ca for an application. Please submit a Cover Letter, application and brief Resume to the attention of Daryl Longworth, Chief of Police.
Upon completion of the Academy, participants will have no affiliation with the Woodstock Police Service, however we encourage them to become involved in VASOC and the Auxiliary Unit if the interest is there.