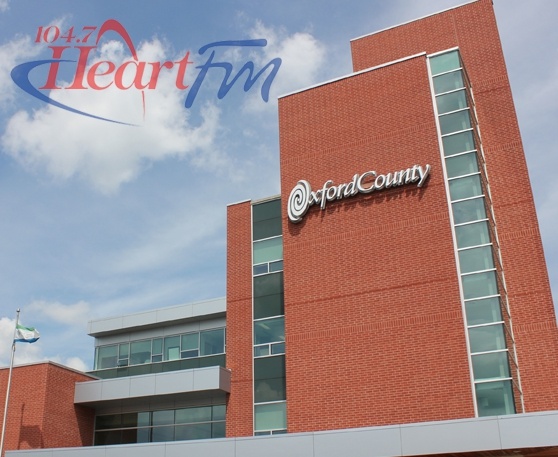 As of right now, the proposed Business Plan and Budget for 2022 includes a tax levy of $66.3 million. This means the average homeowner in Oxford would have to pay about $46 extra for the year.
WOODSTOCK - Oxford County Council will be asked to approve the 2022, Business Plan and Budget this week.
Right now, the proposed $66.3 million tax levy is a 4.0% increase from 2021. Warden Larry Martin explains what this means for the average homeowner.
"What we are looking at on a $270,000 assessment, is an approximately a $23 increase over the 2022/23 year. Now if we put that into perspective, with the the price of today's home, you are looking at about a $46 to $48 increase for the average household."
Martin says they're expecting some more debates and amendments this week, before anything is finalized. One of the biggest issues facing Oxford County is housing. Several people are finding themselves without a place to live thanks to the rising cost of living. Rent is high and the price of homes have skyrocketed.
Martin says affordable housing was named the biggest issue facing the County, according to a most recent survey of residents and there is no quick fix.
"One of the councillors put a motion forward and it is still there and that is that we add an extra $1.5 million dollars to Human Services, that is strictly for housing and we have asked for a report to come back from staff to indicate, ok now what can we do to make the most of that $1.5 million."
He notes, this is not going to be a simple solution or a one and done thing. The County will also try to lobby the Provincial and Federal Government for more funding to address the problem, which is an issue, right across the country.
Highlights from the proposed draft budget include:
- $64.5 million capital plan that invests in information technology, equipment, fleet vehicles, and infrastructure renewal, encompassing roads and bridges, water and wastewater systems, social housing and corporate facilities, and more;
- Business plans for two new significant investments from the provincial government to support the health and wellbeing of those needing long term care supports, specifically for personal care in Woodingford Lodge, the County's long-term care homes, as well as in-home services delivered by Paramedic Services through a new Community Paramedicine Program, both fully funded by the province in the amounts of $2 million and $2.4 million respectively;
- A Housing Strategy that identifies gaps across the housing continuum and action required to meet the County's immediate and future needs, an initiative that also leverages provincial funding to establish an additional 66 affordable units in Oxford during 2022.