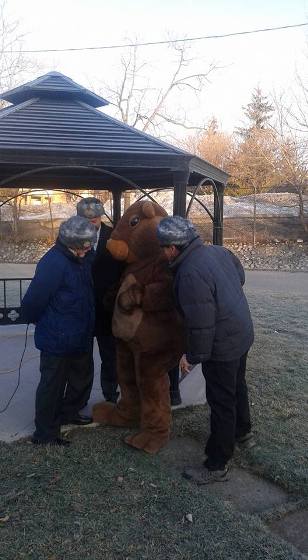 South Gate Centre is gearing up for its annual Groundhog Day celebration.
WOODSTOCK - February is fast approaching which means Chilly Charlie will be emerging from his burrow soon.
Woodstock's favourite groundhog will be attending South Gate Centre's annual prediction breakfast on Tuesday February 2nd. Pancakes and sausages are on the menu and admission is $3 with the exception of kids under the age of 5.
The breakfast will run from 7:30 a.m. to 9 a.m. Operations Manager Felise Jones says Charlie will make his prediction at 8 a.m.
"If it's sunny and he sees his shadow, we're actually going to have a longer winter. If he does not see his shadow it's an early spring."
Last year Charlie predicted six extra weeks of winter for the Friendly City.
Jones tells Heart FM the Groundhog Day festivities will continue into the afternoon.
"Later into the afternoon we have our chilli cook off! This will be our third year doing so and we are looking forward to local vendors coming out again and competing for Woodstock's best chilli."
Advanced tickets for the cook off are $10 and they can be purchased at First Ontario Credit Union, Merrifield Book Shop and South Gate Centre. Tickets will also be available for $12 at the door the day of.