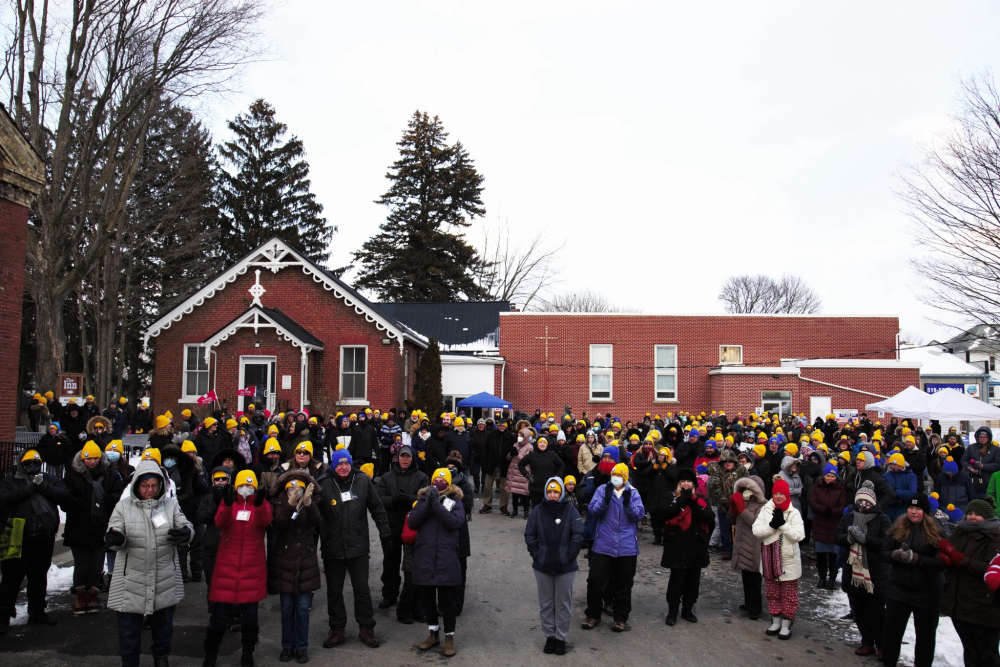 Over 400 walkers hit the streets of Woodstock on Saturday to help raise over $200,000 for The Inn of Oxford County.
WOODSTOCK - It was a sea of yellow in Downtown Woodstock over the weekend, with over 400 people participating in the Coldest Night of the Year walk.
They helped raise over $200,000 for The Inn of Oxford County, absolutely shattering the original fundraising goal of $100,000.
This is the second year of the fundraiser in Woodstock, but there was no walk last year due to COVID restrictions. Event Organizer Scott McKague says lots of people jumped at the chance of support the cause on Saturday.
"We were walking downtown and it was a very visible sight with a lot of smiling faces, a lot of people dancing and a lot of upbeat music. We've been hammered with a lot of negative news for a long time now, so I think people just love having something positive to cling on to and to be a part of."
A total of 165 locations in Canada participated in the Coldest Night of the Year, raising a combined total of over $11,000,000 for local charities that help support people experiencing hurt, hunger and homelessness. The Woodstock fundraiser was the fourth most successful in the end, right behind Collingwood in third place, Surrey Cloverdale in second place and Kitchener in first place.
McKague says Woodstock had the most impressive turnout in the end.
"We had a fantastic turnout with over 400 walkers. We're basically in our infancy here in Woodstock and we were up there with the veterans. As far as dollars raised to participants entered, we are in first place for that. Kitchener I believe had easily over 700 walkers."
Over 50 volunteers helped make this event possible and McKague would like to thank each and every one of them.
He already has a big fundraising goal in mind for 2023.
"A quarter-of-a-million has an awesome ring to it and I think it's doable!"
The Inn of Oxford County is an overnight shelter at Old St. Paul's Church in Woodstock. It's run by Operation Sharing, and Oxford County Council passed a motion earlier this year to convert the shelter into a 24/7 operation. You can read more about that online here.