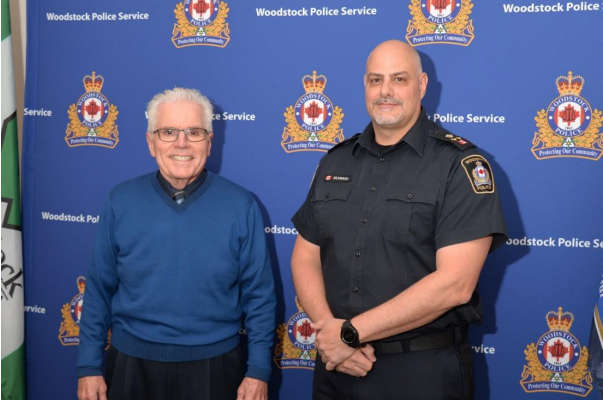 Deputy Chief Rod Wilkinson will take over for Daryl Longworth as the new Chief of Police for WPS on July 9.
WOODSTOCK - A familiar face will be the next Police Chief for the City of Woodstock.
Rod Wilkinson will take over for Daryl Longworth starting on July 9. The Woodstock Police Services Board made the announcement this afternoon. You can read more about Longworth's decision to retire online here.
Wilkinson has been working with WPS for 25 years and has moved up through the ranks, holding a number of different positions. His experience includes working in many diverse operational units, and he
has extensive technical and supervisory experience in Criminal Investigations, Court Services, Patrol, Incident Command and Tactical Operations.
Wilkinson has been the Deputy Chief since 2020. Woodstock Police Services Board Chair Ken Whiteford says they feel very confident moving forward with Wilkinson in this position.
"The members of the Board are looking forward to working with Rod who we all hold in high regard after seeing him perform his duties as Deputy Chief. With a new Strategic Plan for the Service on the horizon for 2023, we are confident that Rod is the person to lead us forward and bring new perspectives to this exercise which will have long term benefits for the Service and the Woodstock community. The Board would also like to acknowledge the significant contribution Chief Longworth has made in mentoring Rod in his role as Deputy. Overall, this has been a fine example of succession planning with rewards for all parties."
Wilkinson is excited for the opportunity as well.
"I would like to thank the Board for entrusting me with the leadership of the Woodstock Police Service. We will continue to build on and maintain the trust of the Woodstock community. We will continue to work with our community partners and groups striving towards common goals. The Police Service will continue leveraging technology looking for new and innovative ways to allow our officers to be more proactive."
Heart FM was able to reach out to Wilkinson for an exclusive interview on his new position. You can listen to that interview below: