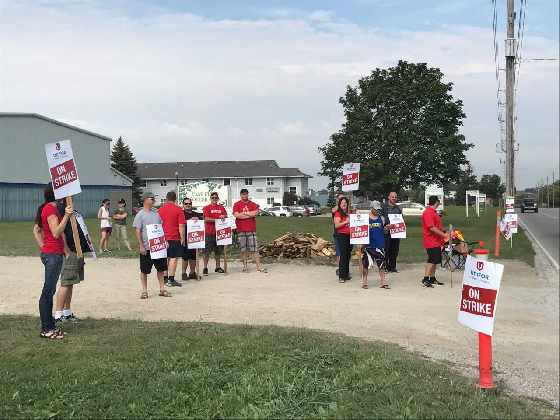 Unifor Local 88 and GM Canada failed to reach a labour deal by the deadline, forcing a strike.
OXFORD COUNTY - Wages, benefits and the addition of a new product are just some of the demands Unifor Local 88 are seeking in the recent GM Cami Assembly bargaining agreement. The two sides failed to come to agreement as of 10:59 Sunday night when union workers walked off the job from the plant in Ingersoll. Plant chair for Local 88 Mike Van Boekel told Heart Fm what is on the bargaining table.
"One of the bigget issues by far is job security, as most people know now they took our Terrain away, we were the sole producer of it, and they took it to
Mexico in July. We have got the Equinox as our sole vehicle left. The only ones ever to make the Equinox, now they have made two plants, they pay $3
bucks an hour in Mexico."
As of now, Unifor 88 has no idea how long the strike will last. Van Boekel adds that the Union is very aware the members are out every penny as time
goes on, he says they are doing their best to be mindful of the fact the strike effects alot of young families in the community.
Currently, 400 people are laid off from the Cami Assembly Plant in Ingersoll with another 2300 at risk. Van Boekel detailed some of the other issues the
Union is seeking.
"There's always economics, we havn't had a raise in ten years. Right now they are offering a 2% raise, they are offering absolutely zero on pensions, it's
an embarassment there's no reflection whatsoever of the work ethic of the members. We've been working six days a week for eight years and it's just an
absolute embarassment what they are offering economically."

The Cami Assembly plant in Ingersoll has won several awards over the years for quality and has been awarded the most efficient plant in North America.
According to Local Unifor 88, last year GM made 12 billion dollars.