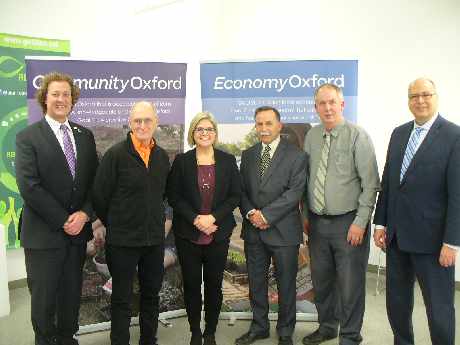 (Left to Right) Deputy Warden Trevor Birtch, Zero Waste Oxford Co-Chair Bryan Smith, NDP Leader Andrea Horwath, Manager of Strategic Initiatives Jay Heaman, Warden David Mayberry and CAO Peter Crockett
NDP Leader Andrea Horwath visited the Woodstock Art Gallery this afternoon, in order to discuss a variety of topics with Oxford County officials.
WOODSTOCK - Ontario's NDP Leader visited the Friendly City this afternoon.
Andrea Horwath met with multiple county officials including Warden David Mayberry, Deputy Warden Trevor Birtch and CAO Peter Crockett at the Woodstock Art Gallery.
They discussed a variety of topics including renewable energy and climate change. Horwath says Oxford County has taken real responsibility when it comes to tackling climate change on the local level.
"It's good to see not only the solidarity if you will or the agreement amongst the various players in the towns and communities throughout the county, but the leadership both political and staff is something that will take these visionary plans and create real change."
The possible Beachville landfill was not discussed at the meeting, but they did talk about extending the life of the current landfill in Salford.
Earlier this week the Ontario NDP party announced plans to reduce hydro rates by 30 percent if they come into power. Following that announcement the Liberals revealed plans to decease the rates by 17 percent. Horwath finds this very disappointing.
"To simply say that in order to deal with the political problem that the liberals have, that they're going to increase payments to the tune of $40 billion and stretch them over the next 30 years isn't good enough. I think it makes people cynical about politics and I don't blame them."