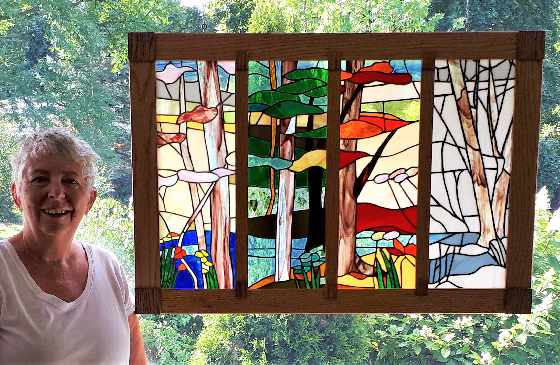 Photo credit: Woodstock Art Gallery
Woodstock's Barbara Fenning Lowik beat out 37 other artists to win the People's Choice Award from the Woodstock Art Gallery's Annual Juried Exhibition.
WOODSTOCK - The people have spoken and they love the stained glass art work from Barbara Fenning Lowik.
She was the winner of the People's Choice Award from the Woodstock Art Gallery's Annual Juried Exhibition.
Curator Mary Reid says her piece, the Canadian Seasons was made to display in her living room window and features a custom oak frame built by her husband.
"The imagery, it's just so Canadian, we can all really respond to it and the fact you need the natural light to really activate the piece, I think is also part of the magic of stained glass."
Reid says over 4,000 people voted in the online exhibition and Barbara's work was chosen over 37 other artists.
"I was absolutely gob smacked about how popular the people's choice voting was, never in my wildest dreams, did I think we would get that kind of reach."
Fenning Lowik says she is thrilled to receive the award for her artwork.
"One of the things that I love about our country is the changing of the seasons. There are always new textures and colours to see and this was the inspiration for my glass choices for this work. I'd like to extend a big thank you to the family and friends who voted for me. To those who voted for my work that I haven't yet met, at some time in the future I would love to show you more of my work."
The People's Choice Award is one of five awards presented as part of the annual juried exhibition.
This year's Best in Show was awarded to Collingwood artist Peter Adams for his painting Weight Bearing Limbs.
Paris artist Jennifer Budd's fibre artwork Isle of Harris was selected for a Juror's Choice Award by George Wale.
Brian Reynolds of Woodstock was also presented with a Juror's Choice Award by Kristine MacGregor for his bronze sculpture Power of 2.
Lastly, Ingersoll artist Annette Martin's mixed media artwork Muskoka Times received a Juror's Choice Award from Asma Khanani.
The virtual exhibition for Visual Elements 62: Annual Juried Exhibition can be viewed at www.woodstockartgallery.ca.