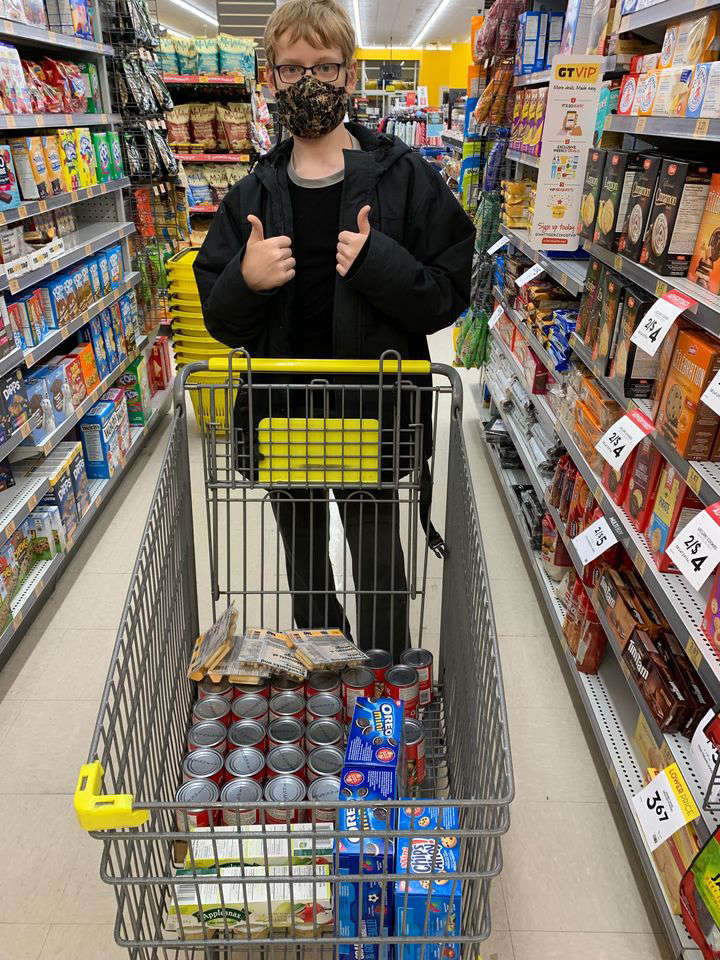 Alex Gardiner is 13-years-old and he donated his time and $100 of his own money to help the Salvation Army's Christmas Hamper campaign.
WOODSTOCK - Every single day, something good happens in Woodstock.
Last night 13-year-old Alex Gardiner volunteered his time and donated $100 worth of food to the Salvation Army's Christmas Hamper campaign!
Lindsay Gardiner, Alex's Mom, says her son offered to volunteer after seeing a flyer at school. He told her they couldn't show up empty handed.
"I told him, you are there to donate your time, you don't need to bring anything but he disagreed and took $100 of his own money. We went to a couple of grocery stores in town and filled up the cart to donate to the Christmas Hampers. He grabbed cereal, pasta canned goods crackers cookies, you know, anything a 13-year-old would be looking to get his hands on."
Alex spent two hours last night helping to put the hampers together at the Salvation Army in Woodstock.
The Salvation Army has been doing this toy and food drive for many years and has helped millions of families provide gifts for their kids and put food on the table on Christmas.
Naomi Dalley, Major of the Salvation Army in Woodstock and Norwich, talks about where they are in terms of preparations for this holiday season.
"We are in the process of preparing our hampers and at the last count we have over 300 families that are receiving a food and toy hampers and because Christmas falls on a Saturday, our distribution days are a little bit earlier in the month than we usually like. We're giving out their food and toy support will be distributed on the 14th, 15th and 16th of December so people who are donating toys from the Angel Tree need to keep that in mind to get the toys to us sooner rather than later."
Major Dalley also commented on what will be included in these hampers.
"The first item of course is food and we include enough food for a Christmas dinner so it will include a turkey or a ham depending on the size of their family but we also try to stock it up with other staples. Things such as canned soup, vegetables, pasta, various things they can use for lunches over the Christmas break so that they won't find themselves in need while some places are closed down."
Finally, Major Dalley addressed the pickup dates, all of the appointments and the late registrations.
"December 14th, 15th and 16th by appointment so people have registered over the last couple of months. All of our appointments are full so if they haven't registered by now they may be out of luck we're going keep a waiting list but I can't make any promises for the people that contact us now."
It is not too late to donate more food and toys for those who haven't yet donated or still wish to donate more. You can drop off your donations at the Salvation Army Church, Monday to Friday from 9:00 a.m. to 12:00 p.m. and 1:00 p.m. to 4:00 p.m.