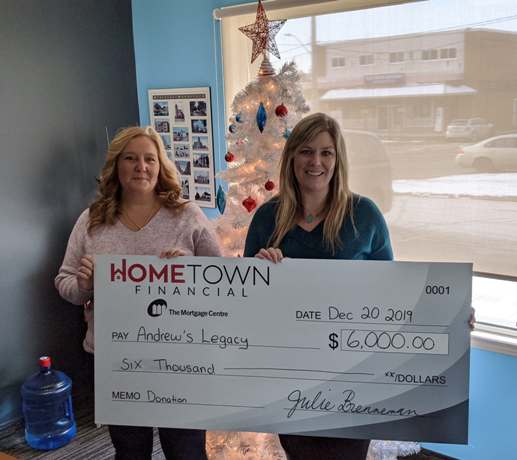 Principal Broker and CEO of the Mortgage Centre in Woodstock Julie Brenneman presented Andrew's Legacy with a cheque for $6,000 today.
WOODSTOCK - Andrew's Legacy received a $6,000 donation today from the Mortgage Centre in Woodstock.
Principal Broker and CEO Julie Brenneman says at the beginning of the year, the Mortgage Centre pledged they'd put $50.00 towards the charity from each mortgage they close.
"So Andrew's Legacy is an organization that was started after the 2015 passing of Andrew Stoddart, who was a teenager that was playing soccer. So what they do basically is they raise money and provide defibrillators."
She says the defibrillator is provided to different sports venues in Oxford County.
The charitable organization's goal is to have a defibrillator in every school, soccer field and baseball diamond in the Thames Valley District School Board area.
She says they'll donate to another local organization next year.
"I just adopted a rescue dog, it was from an organization in Toronto. I do like to keep our fundraising local, so I'm going to be looking to do something in 2020 with a rescue organization here in Oxford County just to kind of give back for that cause."
The Mortgage Centre donated 128 toys to Operation Sharing's Christmas giveaway last year.
The late Stoddart was a star athlete, playing football, track and field and soccer. The 15 year-old collapsed without warning while playing soccer in Kintore, Ontario in May of 2015.
Their Facebook page says they have donated 52 units to date. Recently they just donated 7 AED's to local rural schools in the Thames District School Board. Those schools include East Williams in Ailsa Craig, Valleyview in Ilderton, Davenport and Mcgregor in Aylmer, North Dale and River Heights in Dorchester and Centennial in Arva.
To learn more about Andrew's Legacy, you can visit their website.