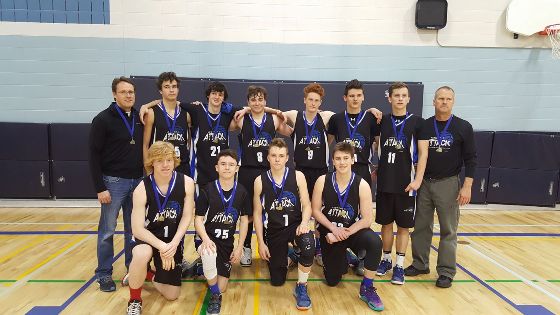 The Oxford Attack used home court to their advantage to win gold at an OBA sanctioned tournament this weekend.
WOODSTOCK - The Oxford Attack Under-17 Juvenile Boys took home gold in their home Ontario Basketball Association sanctioned tournament over the weekend.
The Oxford Attack Basketball Club hosted an 8-team U-17 boys' tournament with teams from all over Ontario including Orangeville, Lindsay, Ancaster, Stratford, Brantford, Cambridge and Welland.
The Attack played their local nemesis Brantford Hawks in a thrilling gold medal game with the Attack winning 55-46. The Attack had not beaten this tough Brantford squad in a few years and game planned to execute great man to man defense and shoot well from the 3-point line to have a chance to overcome this strong opponent. Both teams played excellent defense in the first half, stymying each other's offense with the Attack leading a low scoring game 20-19 at half. The Attack's long distance shooting began to connect in the second half with 5 different Attack players hitting 3-points shots to extend their lead and some clutch free throw shooting in the final minutes sealed the gold medal win for the Attack.
The Attack opened the tournament pool play with a resounding 54-24 win against the Stratford Revolution by employing a suffocating team defense.
The Attack next faced the Orangeville Hawks and alternated their man to man defense with a 3-2 zone for a comfortable 63-50 victory.
The Attack boys completed pool play and assured their spot in the gold medal game with a hard fought victory against a stubborn Lindsay Wildcats team 72-47 win. Lindsay kept the game close for the first half with some excellent guard play and offensive rebounding. The Attack refocused in the second half and pulled away as the game wore on.
The Oxford Attack U-17 boys next host the Chatham Kent Wildcats on Thursday May 18 at St. Mary's H.S. at 7:00 pm as they prepare for their OBA Provincial tournament at the end of the month in Markham.
Oxford Attack U-17 Juvenile Boys Gold Medal Team Photo in Their Home Sanctioned Tournament:
Front Row (L to R): Deric Bastien, Cooper Gilson, Liam Dempsey, Adam Bullen
Back Row (L to R): Coach Chris Dempster, Cubby Dempster, Matt Keith, Callaghan Bullen, Ben Jentz, Lucas Gagnon, Brandon Cowan, Coach Paul Cowan (Absent for final game: Lincoln Poole, Thomas Morgan)
Article submitted by Paul Cowan