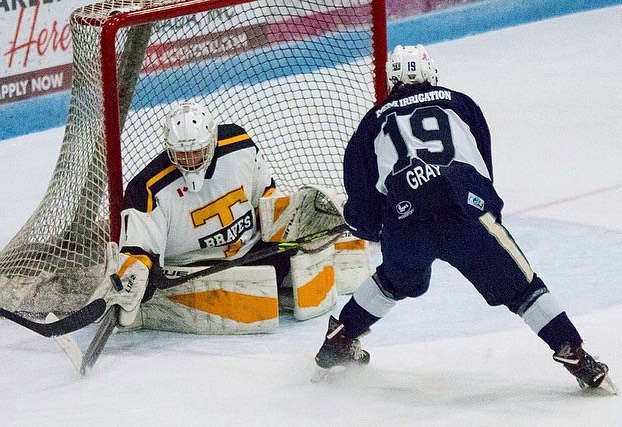 Photo Credit - Woodstock Navy Vets Facebook
Congratulations to 18-year-old Davin Gray from Ingersoll!
WOODSTOCK - The PJHL Doherty Division Rookie of the Year has been awarded to a Navy Vets Center Forward player!
This year the award goes to 18-year-old Davin Gray from Ingersoll!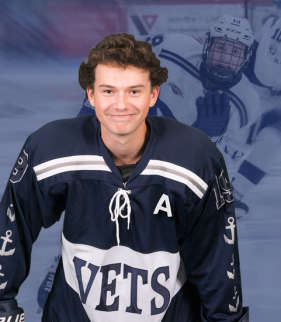 The announcement comes moments after he was named the PJHL Doherty Division Player of the Month for February.
When asked about how he felt hearing the news about the award, Davin had this to say.
"It's a great accomplishment, I had a lot of fun playing this year! It's a great group of guys to be on the ice with. We are excited for the playoffs."
Grays season highlights with the Vets include 26 goals and 27 assists, for a total of 53 points scored in 41 games. He was team leader on the Navy Vets for goals overall. For the Doherty Division he is top rookie scorer and second for powerplay goals.
Gray praised the fans for the good times he had on ice during the season.
"It just a good organization and a great team. I really enjoy being there. The City of Woodstock is awesome, they come and support our games and really make it fun playing in front of the fans. The energy they bring each night is amazing. We always have a packed barn, hopefully we'll have another full house tonight. It always makes it more fun and entertaining."
Davin will act as the Vets "main cog" or most valuable player during the playoff series, starting with Wednesday's game one against the Tavistock Braves.
They go on to take on the Braves again tonight, Davin said he's ready to faceoff.
"Tavistock is a bit older and more experienced but I think we just have to outwork them. Capitalize on chances and use our speed to our advantage. I for sure think we can win tonight and even win the series."
The center forward player is set to receive his award at tonight's game. To purchase tickets, click here.
Congratulations Davin!