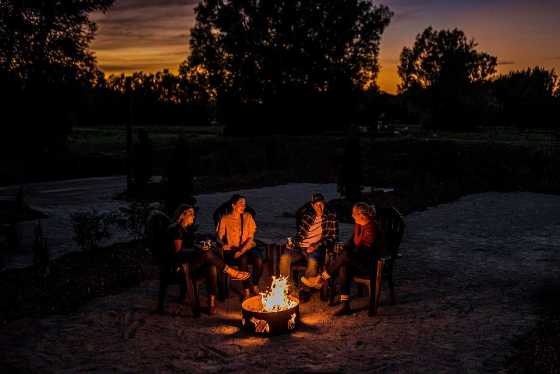 You can book a sunset campfire at Snyder's Family Farm this fall as the popular tourism spot in Blandford-Blenheim looks at innovative ways to stay open and keep everyone safe during the Pandemic.
BLANDFORD-BLENHEIM - Snyder's Family Farm in Blandford-Blenheim has had to do a major pivot this fall with COVID-19.
Normally they would have thousands of visitors to their family farm and the fear farm during the fall season. Co-Owner Meghan Snyder says the team has been working since March to find new ways to bring people to the farm.
"We are really proud of our team, we are really diverse and hard working and from March we working on Zoom to find ways to pivot for the Fall season. One of the things that we are really proud of is we built a physically distanced but socially distanced campfire area, that we have had open now for 3 weekends for sunset campfires."
Snyder says the campfires have been well received.
"People are happy to be out in a safe setting separated from other people but being able to enjoy their bubble of 10 or family of 5. Because we can't get away this year, it has been really nice to have people here and provide a getaway without them having to go very far."
Groups of five to 10 people can book a campfire for friends and family within their social bubble. Visitors can expect:
- Contactless check-in and hand sanitizer on-site
- A properly spaced, physically-distanced, fire pit
- A pre-lit and stoked fire
- A folding table and chairs for all guests
- Roasting sticks (with purchase of roasting kit)

Campfire guests can order food, including fresh bakery goods, hotdogs for roasting, house-made pizza, or homemade marshmallows perfect for smores. The Sweets & Spirits Bar offers beer, cider, wine, coolers, water or pop. Each campfire site is cleaned and sanitized between guests, with Snyder's Farm staff tending to the fires as needed, respecting physical distancing guidelines.
You can also order items from their bakery including seasonal favourites featuring pumpkin spice and baked goods made from scratch.
Tourism Specialist for Oxford County Meredith Maywood says the Snyder family has always been innovative with their guest experiences, expanding their Halloween Haunts over the years, building a bakery, and developing a Christmas tree farm.
"I am impressed daily by the innovation and creativity demonstrated by Oxford County tourism providers throughout the COVID-19 pandemic. Snyder's Family Farm and Fear Farm are leaders in this innovation. They have transitioned their business from serving a high volume of visitors to providing small, unique farm experiences for consumers. They have done this while staying true to their brand and their commitment to offering a FARMtastic experience. We look forward to seeing local businesses continue to have this kind of success, and being leaders in the industry."
You can find more information online here.