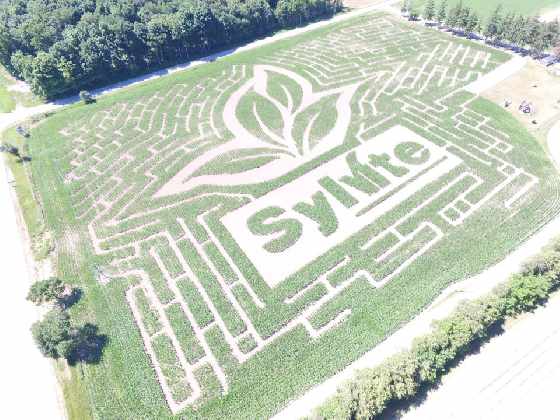 This year's Norwich Optimist Corn Maze took two days to cut and features the logo of a local business.
NORWICH - The Norwich Optimist Corn Maze has officially unveiled their maze design for the 2016 season.
Corn Maze Coordinator and Farmer John Rettie says the maze's design is the logo for Sylvite Agri-Services in Norwich.
"They have been strong supporters every year and this year they have stepped forward as official maze sponsor so we have cut their logo into the maze."
Rettie tells Heart FM about the maze design process.
"I roughly design mazes on paper and with the help of technologically capable people we are able to refine our design and transfer it into a software that allows us to GPS the cutting process into the field. This year's maze took two days to completely cut."
Rettie says he took a different approach to designing the 10 acre field this year.
"We designed the maze to reflect the pebble in the pond concept with mazing paths following the general curves and lines of the logo."
Two mazes have also been cut into the design this year. Both mazes are designed to be equally challenging for all ages.
The first Norwich Optimist Corn Maze was cut on the Rettie Farm on the corner of Highway 59 and Evergreen Street north of Norwich back in 2006. Although 10 years have officially past since the first maze was cut, there will be no celebration until the 2017 season. This is due to the fact that there was no maze in 2009 due to poor weather conditions, making the upcoming maze in 2017 their 10th maze. A sponsor for next year's maze design has already been confirmed.
The 2016 Norwich Optimist Corn maze will be open to the public as of September 10th and will close on October 29th.
Click here for more information on the Norwich Optimist Corn Maze.