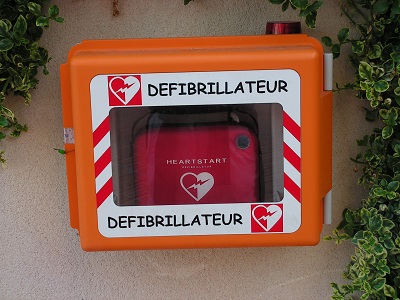 Pretty soon every school in the Thames Valley District School Board will have an Automated External Defibrillator.
Automated External Defibrillators will soon be placed at every single school in the Thames Valley District School Board.
Trustee's voted in favour of Jake Skinner's motion at their school board meeting last night. Skinner says they will have to find some different avenues to get the money to have them installed.
"We're going to be seeking money from the community, we have assigned one of our staff to proceed with doing that, because we have had a lot of interest from the community to assist with this. So we will be pursuing that and in terms of maintenance costs, that will come from our budget."
Skinner says the maintenance for the life saving equipment will cost them $20,000 from their budget. It will cost roughly $300,000 to install AED's at every school in the District. The Board is hoping to raise that money from community donors and the local municipalities. Skinner says they will start installing AED's this September and have set out a timeline of 3-5 years, however they hope to get this project finished in a few years.
One of the biggest proponents for this movement has been Andrew's Legacy. They have been pushing for AED's to be installed at public schools ever since 15 year old Andrew Stoddart died last year at a soccer field in Kintore and it is believed an AED would have saved his life. Andrews mom Cara Schmidt tells Heart FM this cause is obviously very near and dear to her heart.
"We need to heavy AED's in all public places, right next to the fire extinguisher, people need to be aware of them and know where they and not be afraid to bystander CPR and use an AED when someone goes down in a cardiac arrest. No family should have to go through this the way we have had to because a piece of equipment was not available."