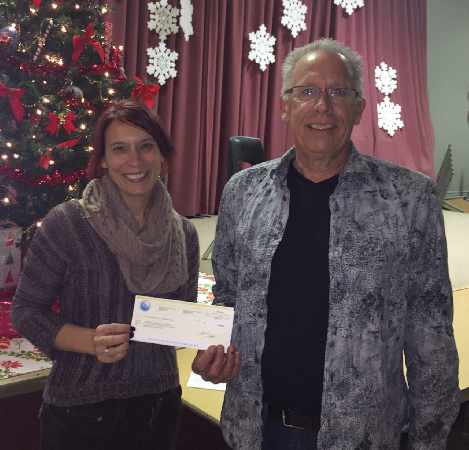 Unifor Local 636 has made a huge donation that will go a long way to ensuring everyone in Oxford has a Merry Christmas
WOODSTOCK - A big cheque from Unifor Local 636 will help Operation Sharing run their 14 different programs.
Unifor President Ross Gerrie tells Heart FM they have been donating money to Operation Sharing for about 10 years now.
"It comes from our Social Justice Fund - we try to bargain that at every bargaining table when we go in to bargain with our employers. And because we bargain it at certain employers in Woodstock we get a cheque every year for $2,000 towards the food banks or Operation Sharing in the Woodstock area."
The $2,000 cheque will also benefit the annual Christmas Day event, which will take place between 10 a.m. and 3:30 p.m. at College Ave Church.
Public Relations Coordinator Vanessa Giuliano says everyone is welcome to attend this Sunday.
"They can be folks that do use the services, they can be folks that just are maybe alone or lonely at Christmas time. Everybody comes together to enjoy food, fellowship, games, and singing."
Giuliano would like to thank Unifor for all of their help throughout the years.