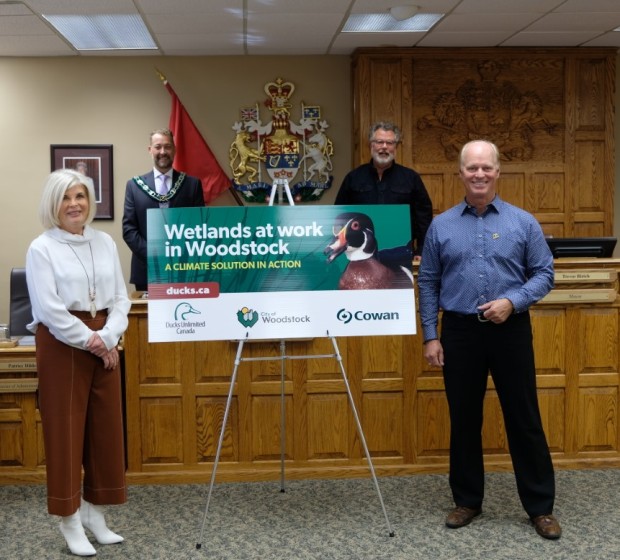 Every day thousands of people are going to drive through Woodstock and see a brand new restored wetland on the southside of the 401 between the Sweaburg and Highway 59 cutoff.
WOODSTOCK - The City of Woodstock, Ducks Unlimited Canada and the Cowan Foundation unveiled a new sign that will be going up on the 401 for a new wetland restoration project on the south side of the highway.
Director with Ducks Unlimited Canada Phil Holst says they are really excited to get to work in creating this new wetland.
"This is a wetland restoration project along the south side of the 401, between Sweaburg cutoff and 59 highway. It will act as a form of natural infrastructure, cleaning water that comes off part of the City of Woodstock and the 401. As the water travels through the wetlands and gets cleaned up and moves on down through the Cedar Creek watershed into the Thames River."
Holst says they are going to start working on this project right away and are hoping it will be completed by Christmas. He explains what people will see when they are driving into Town on the highway.
"They will be created by a large Conservation sign with a message of Conservation at work here in Woodstock, with a backdrop of a natural habitat that has been restored, sort of a green or natural welcome mat to the City of Woodstock."
Woodstock Mayor Trevor Birtch says he really excited to see this project come to fruition.
"One of the things that is going to be amazing is the volume of traffic that will notice and recognize that the community is working towards these goals. We hope to inspire others, not just our neighbours but people from all over the world who travel the 401 to see that it is possible when a community comes together with great volunteers and organizations like Ducks Unlimited and the help of organizations like the Cowan Foundation that we truly can make a difference for generations to come."
The City of Woodstock, Ducks Unlimited and the Cowan Foundation unveiled a new sign that will be going up on the 401 for a new wetland restoration project on the south side of the highway.

Posted by 104.7 Heart FM on Friday, September 18, 2020