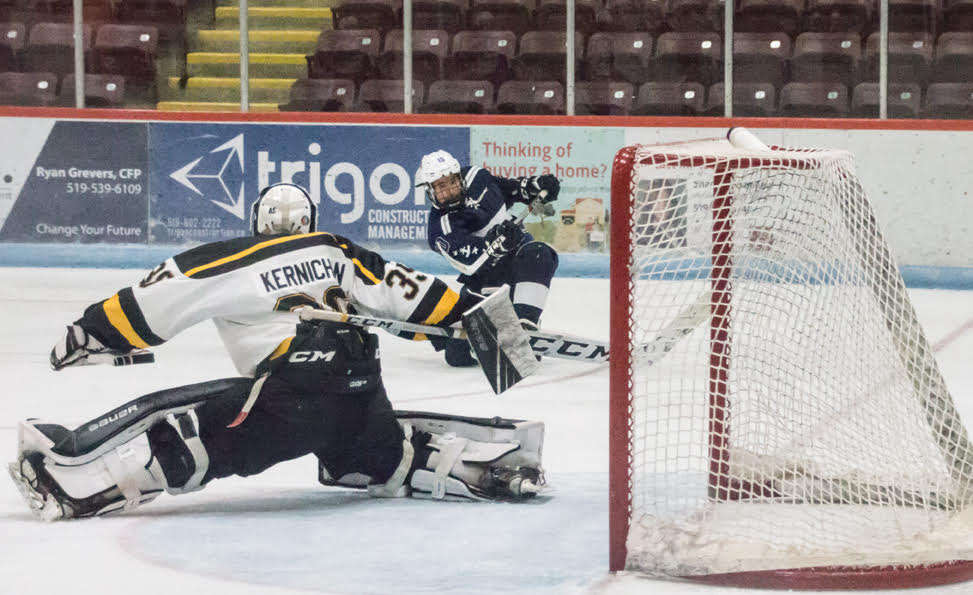 The Woodstock Navy Vets will be off the ice for a while, after they earned a first round bye for finishing the regular season in first place.
WOODSTOCK - Tom Petty said it best, sometimes the waiting is the hardest part.
The PJHL playoffs started this week, however Woodstock will have to wait another 10 days after earning a first round bye. Navy Vets Head Coach Darren Young says they will enjoy the rest and is proud of his team's accomplishments this season.
"It was a really good season, when you finish first place, it is obviously a good season. We had to deal with plenty of adversity, we had nights with only 9 or 10 forwards and 5 defense, it's not like we walked away with first place and everything came easy to us. Ultimately I think that will help us going into the playoffs we have already faced some adversity, obviously we are going to face more adversity in the playoffs."
Woodstock did not clinch first place until their last game of the season. The team went 11-2 after they added two new players, following the break caused by COVID-19 restrictions. Tavistock also got a bye for coming in second.
Young says taking a week or two off can be difficult and the team will need to stay focused.
"We just have to do a good job of practicing the right way, simulate as much as we can game like situations, conditioning will be huge for us, the guys need to make sure they stay in game shape."
New Hamburg has a 1-0 series lead over Norwich. Wellesley also celebrated a 3-0 win over Hespler in the first game of their playoff series last night, which means they're now leading that series 1-0.
Woodstock will face the lowest seed remaining after the first round. This means they will definitely avoid a second round matchup with Wellesley and Tavistock. The Navy Vets could face New Hamburg, Norwich or Hespeler in the second round.