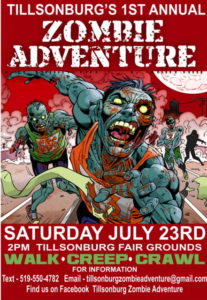 The Zombie Apocalypse is real and it is taking over Tillsonburg.
TILLSONBURG - Zombies are going to take over Tillsonburg this weekend.
The Tillsonburg Optimist Club is hosting a Zombie Adventure. Amanda Mueller tells Heart FM contestants can choose a walking trail or a running trail and everyone will get three lives.
"It's almost like flag football the lives will be attached to you with clothes pins, it's just cloths attached to you and the zombies have to try to get them, if you lose them, there is spots along the trail where you can purchase more so that when you return your name does get entered into the draw as long as you have three lives."
After the Zombie Walk and run they will be hosting a concert at Memorial Park. Mueller says Three bands have signed up for the concert after the adventure.
"So we have King Cashew starting at 5:30, then we have Rocket Queen which is a Guns N Roses tribute band and then we have Carl Dickson closing out the show and he will be done at 10:00 pm."
Registration for the run and walk starts at 2:00 p.m. at the Memorial Park in Tillsonburg and then the contenstants will head down the zombie trail.