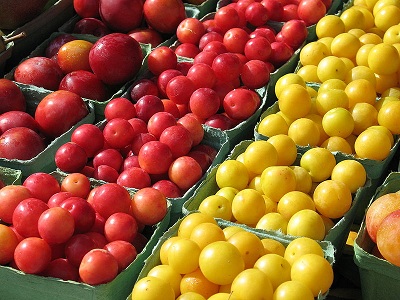 The 2017 Oxford Fresh Map highlights numerous fresh food destinations in Oxford County.
Tourism Oxford and the Oxford County Federation of Agriculture are reminding everyone to check out the 2017 edition of the Oxford Fresh Map. The map is a complete guide to local food producers, farmers markets and other fresh food destinations within Oxford County.
Communications Coordinator for the Oxford County Federation of Agriculture Laura Fraser tells Heart FM about some of the stops on the map.
"The map spans all across Oxford, you can pretty much find something at every different corner from Embro to Norwich to Tillsonburg. We have a variety of stops on the map, fruits and vegetables, maple syrup, apple orchards, cheese, butter, all the way to our new brewery here in Woodstock."

The new Oxford Fresh Map is available now at tourism kiosks, and at all of the stops on the Oxford Fresh Map.
"So the maps all over Oxford County now, we are in the process of getting them to all of the stops that are on the map. You can also get them at Tourism Oxford, at any of their locations, at the County building in Woodstock, our libraries have them, any restaurants that are on board. They are also online at oxfordfresh.ca, you can download your map there."
Fraser adds they are very proud of their partnership with Tourism Oxford.
"The OCFA is proud to partner with Tourism Oxford to make sourcing fresh and local goods easy and affordable for everyone. Buying local supports farmers and producers in your community, helping to sustain these farms for future generations. Food that is grown locally is fresher, has more flavour, contains fewer preservatives, and promotes a cleaner environment. This map is the perfect tool to experience what Oxford County producers have to offer."