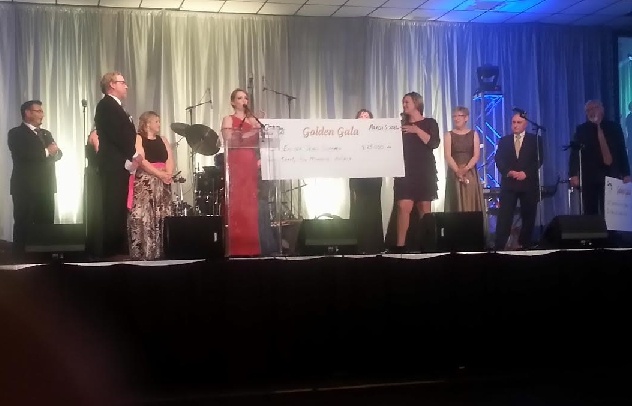 Three local charities are sending out a big thank you after receiving generous donations from the Golden Gala.
WOODSTOCK - The Oxford Auditorium was transformed into Little Italy for the Century 21 Golden Gala in support of three local charities.
Co-Chair of the committee David Hilderley says those three groups received a big boost thanks to the generosity of the people of Oxford County. "The three groups are the Alzheimer's Society of Oxford, the MS Society of Oxford, and the Easter Seals of Ontario, but the Oxford Chapter. And tonight we were able to present them with a $25 000 cheque which I know each of those organizations really need to have." Each group received a cheque for $25 000.
It was another sold out year for the Century 21 Golden Gala, and Hilderley says committee members are likely already thinking about next year. "Why wouldn't we have another one? It's very important to the community, not only from the perspective of the fact that we raised a lot of money for the charities which is very very important - the most important part of it - but it also gets people out to have a wonderful time at a very special event."
Hilderley says it is thanks to support from the community that this is such a rousing success. "I have to attribute it to the fact that the committee is so dedicated to make sure that it all comes together - but I will also have to say that we live in the most generous part of Ontario, not just with our event, but with all the events that happen here." He says it's a great feeling when they know they can approach sponsors and donors year after year and get the support they need.