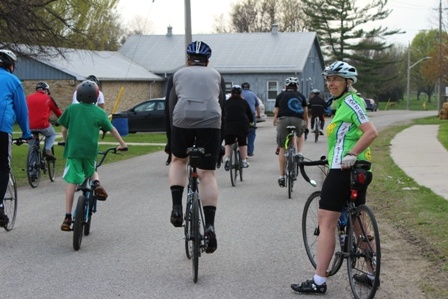 There will be four Great Ride and Stride Fundraisers in Oxford County this year. All of the proceeds will benefit the Canadian Cancer Society.
OXFORD COUNTY - There will be three Great Ride and Stride events in Oxford County on April 24th. Lot's of people will be riding their bikes or will travel on their own two feet while they raise awareness and funds for cancer. Kelly Jorgensen, Volunteer Engagement Cordinator with the Canadian Cancer Society, tells Heart FM about three of the events in Oxford.
"In Norwich it's at the Harold Bishop Park, in Blandford Blenheim it is at the Princeton Park Pavilion and in Tillsonburg it's at Lake Lisgar."
There will also be a fourth event in Thamesford, where the Great Ride and Stride originated, on June 12th.
Jorgensen adds she hopes the participants will raise lot's of money for the cause.
"Signing up for the event, what we are hoping for is pledges. Ask your friends neighbours, have a car wash or a rummage sale and just raise funds, bring it to that event and have a good time while you are out there."
Jorgensen also says that participating in fundraiser's like the Great Ride and Stride helps people feel like they are benefiting the fight against cancer.
"It's hard when someone you love is going through cancer and there's not a lot you feel you can do but fundraising and giving back to fight this disease so no one else has to go through it, that makes you feel much better about doing something."
You can find more information about each of the events and register by clicking here.