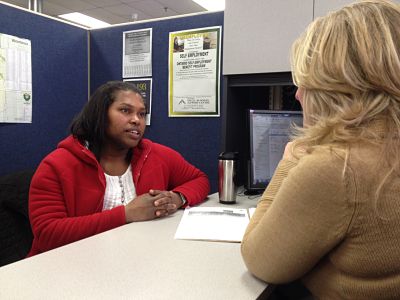 Monica Barrientos (left) has been getting help from Settlement Services Worker Karen Oldroyd (right) at Community Employment Services.
How Settlement Services is welcoming newcomers to Oxford County.
Today in Part 3 of "Help Wanted" we meet Monica Barrientos.
Monica and her husband moved to Woodstock 5-months ago from Costa Rica. After living in Toronto for 5-years, and moving back to Costa Rica, Monica missed Canadian life, but wanted to live somewhere smaller and quieter than the Big Smoke. Woodstock was the choice, to be close to family that lives here.
Monica arrived at a perfect time. In April, Settlement Services was launched in Oxford County through pilot program funding from the Ministry of Citizenship and Immigration. That funding allows Karen Oldroyd at Community Employment Services to assist newcomers like Monica with a wide range of needs. "It's just amazing that even 10-minutes of me spending time with them makes a world of difference for them, because they don't have anyone else to talk to, or to ask, or they're afraid."
For Monica, she came with two needs, to learn better English, and to find a job. "Even to find a school, because I need to learn more English. She (Karen) helped me to make my resume right away to get a job, and two weeks later I started working."
While Monica attends Blossom Park English as a Second Language classes in Woodstock, Karen is also helping her through the process of getting her Ontario drivers' license, and working towards a larger goal of taking care of elderly residents. "Karen sent me to the Red Cross and I already have my interview in September this year to see if I can get the certificate to work in a nursing home. That's my goal right now, and I know I'm going to make it."
Since April, Karen has been working with an average of 10 newcomers a month, and the caseload only seems to be growing as the word starts to get out that Oxford County is a prime location to begin a life in southern Ontario.
The program has been so successful, the Ministry has granted CES 3-years of program funding for Settlement Services.
Tomorrow in Pt. 4 of Help Wanted we'll look at some of the challenges newcomers face when trying to start their new lives in a smaller community.