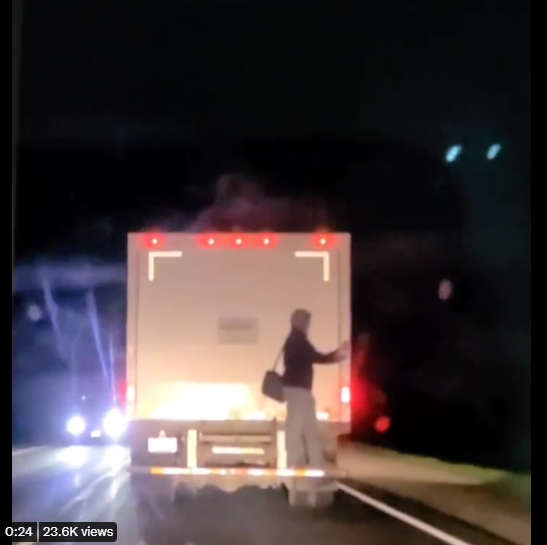 Photo Credit: OPP West Region Twitter page, @OPP_WR
The Norfolk OPP is investigating a video of someone standing on the back of a truck on Highway 24.
NORFOLK COUNTY - The Norfolk OPP is investigating a shocking video that's being shared on social media.
Acting Sergeant Ed Sanchuk says the video shows a person standing on the back of a moving vehicle on Highway 24, heading towards Brant County.
"We think that the video depicts is a person standing on the back of this box truck, hanging on to a little handle on the back of the truck, traveling down Highway 24 while going about 80 to 90 kilometres per hour. Unfortunately, if this truck hit a significant bump, this person would have had a great possibility of being ejected from the back of that bumper either in towards traffic or the traffic traveling behind them."
Police believe the video was recorded Friday evening. It looks like it was taken off someone's dashboard camera.
Sanchuk says an investigation is underway.
"I got this (video) sent to me by a concerned member of the public indicating that it was posted on social media and it doesn't look like the police were called. Once I started looking into it, I confirmed that we were in fact not called for this incident. We are continuing to investigate and we are trying to identify this individual."
Sanchuk says attaching yourself to a vehicle in this manner can result in a $110 fine.
Anyone with information in regards to this incident should call the Norfolk OPP at 1-888-310-1122. You can also submit an anonymous tip through Crime Stoppers by calling 1-800-222-8477 (TIPS).
No, YOU are NOT seeing things! A person made a decision to ride on the back on this truck on #Hwy24 unbeknownst to the driver. This is a very dangerous act that could of had life-altering or ending consequences. #OPP continuing to investigate. @NorfolkCountyCA #NorfolkOPP ^es pic.twitter.com/4QSJl0R4nw

— OPP West Region (@OPP_WR) May 8, 2022