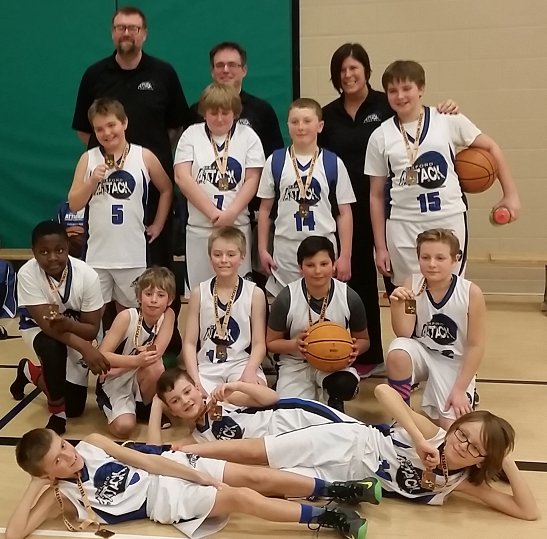 The Oxford Attack U11 boys took a heartbreaking loss at the Blessed Sacrament Tournament, but still finished in fourth.
The Oxford Attack U11 boys battled hard this weekend at the Blessed Sacrament Tournament in Hamilton.
They started off the tournament with 2 hard fought wins. Then the boys played a great offensive game that ended in a 47-45 heartbreaking final second loss. The last time they played this team they lost by over 20 points, so it showcased the great improvement in the team so far this season. In the end the team lost a tough battle in the bronze medal game finishing 4th overall!
There were great plays this weekend from the four point guards, Bilal Taha, Jerome N. Kazadi, Stefan Charters, and Reagan Whittman. Their leadership on the court lead to our success.
Outstanding defensive plays by our smallest team member Grady Martens. He was always in the right spot and boxed out at every shot! Our big men Sam Orlowski and Corbin Duivenvoorde dominated the boards and lead our inside offensive. There was constant hustle by two of our fastest players, Isaiah Pacheco and Callum Bruce, who did a great job always getting down the court. Liam Parolin and Ty Friesen, the two in bounders, played critical roles with aggressive pressing, and very smart heads up passing.
However, the play of the weekend goes to Ben Ewing! Way to see the open man down low. The coaching Staff, Judie Friesen, Mark Parolin & Rob Duivenvoorde are very proud of how far the team has come and look forward to the rest of the season! Special mention to the team manager, Rick Charters for keeping the team informed this weekend of all the last minute changes.
Summary submitted by Coach Judi Friesen