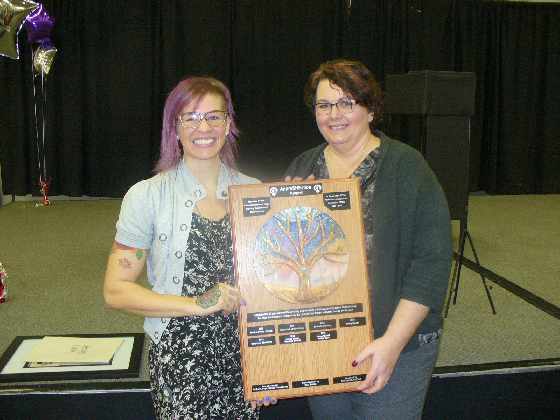 Jenilee Cook and Allison Henkell, both from Woodstock, were the recipients of the AppreSHEation Award at the Oxford Celebrates International Women's Day event.
WOODSTOCK - Today is International Women's Day! There were lots of fun activities at the Oxford Auditorium earlier this afternoon, encouraging people to show their appreciation for the special women in their lives.
Allison Henkell of Woodstock was one of the two women who received the AppreSHEation Award today. She tells Heart FM the importance of International Women's Day.
"International Women's Day is a huge celebration of all the victories that women have had thus far, as well as being a recognition of the things that still have to change."
Jenilee Cook of Woodstock also received the AppreSHEation Award. She tells us her thoughts on winning the award.
"I'm overwhelmed. I knew it was coming and Shelly Hughes, a friend and colleague who nominated me had shared her nomination with me. I had already been quite emotional about it. It's amazing to be in a space today with so many amazing people."
Phyl McCrum is a Women's Advocate at Ingamo Homes and a committee member for Oxford County Celebrates International Women's Day. She explains the importance of the AppreSHEation Award.
"We feel that women are such a substance to this community and do so much and yet don't get recognized in the way that we believe they should. So this is our way of giving it back to the community to say, nominate the women who you feel are making a significant difference in raising the status of women right here."
The event also featured lot's of vendors, a free chili lunch, Fanshawe College students doing peoples hair and an afternoon yoga session.