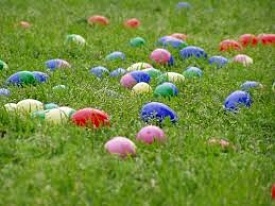 Woodstock's annual Easter Egg Hunt will be at the Woodstock Fairgrounds Racetrack Saturday morning.
WOODSTOCK - The Easter Bunny is coming to Woodstock this weekend.
Kids between the ages of 2 and 11 are invited to a massive Easter Egg hunt hosted by the City and sponsored by the Calvary Church and Heart FM this Saturday. Special Events Manager with the City Brad Janssen tells Heart FM they have switched up the format a bit this year so every kid will get the same amount of chocolate.
"We came up with a different format because nobody wants to see a young child not get something and someone get more than they really need and so what we are doing this year is we have five different coloured eggs. Once you collect five different coloured eggs you report to one of the 8 tables we will have set up and collect a goodie bag, everybody gets the same thing and everybody will get a draw ticket for some bigger prizes."
The free Easter Egg hunt will start at 11am at the Woodstock Fairgrounds Racetrack.